In Memory
Tracy Cole VIEW PROFILE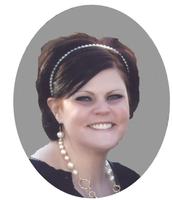 Survived by: Daniel Morones, father Ray Cole, mother Carolyn Cole, brothers Ray Cole, James Cole, Chris Cole and sisters Carrie Cole Bond, Darcy Cole Watt and 14 nieces and nephews.
Tracy and I didn't start dating till after high school. Tracy took cosmetology classes and passed all her courses and worked at various salons around the city. She was very good at what she did, but an opportunity came along to work side by side with her mother at a clothing store her mother owned at Market Square. So for over 13 years she ran the store as manager for her mother. When the store was sold Tracy not missing a beat managed one of the Spirit Halloween stores in San Antonio every season for 4 years. The owner of the Halloween stores told Tracy several times that the store she took over was ran the best out of all the other stores she owned and the sales turned to phenomenal numbers around after she started running it. Tracy was married for 16 years 11 months to her husband Daniel. They had no children. When she was first diagnosed with cancer she became a fighter till the end. She was always worried what her illness was doing to everyone else and worried about herself second. During her treatment Tracy wrote an Opinion to the San Antonio Express News that they published in their editorial section. It was titled Cancer is not just pink it was brief but powerful. She won her fight with cancer, but the cancer came back and had spread and was even stronger. She passed away only 4 months after her 2nd diagnoses, surrounded by family and friends by her side. She made an impact on everyone she came in contact with her and we miss her everyday.
https://www.dignitymemorial.com/obituaries/san-antonio-tx/tracy-morones-5229902
Click here to see Tracy's last Profile entry.